Tango workshops, weddings & chorepgraphies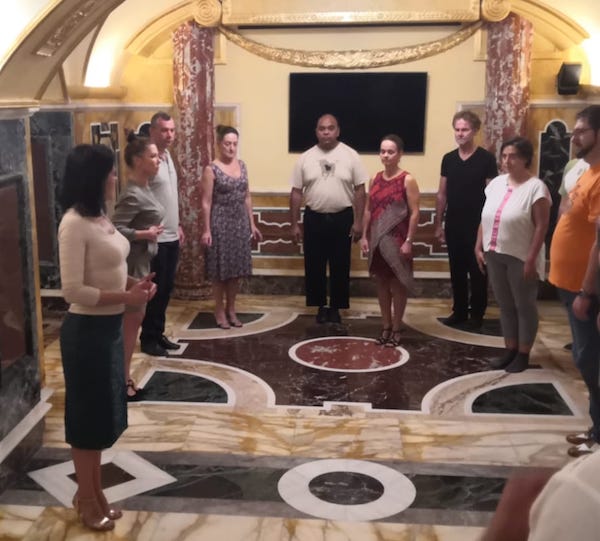 Tango workshops & teambuilding
Give your family, friends or co-workers the chance to try the Argentine tango!
Learning tango can be challenging, but it is proven to be an amazing team building exercise and an opportunity to bond and have lots of fun. A dance workshop is the perfect way to start your event or party, to get everyone moving and joyful on the dance floor. Our tango workshops are suitable for everybody and for every type of event.

Which kind of tango entertainment we offer
Either if you are a private or a corporate, we will create the tango entertainment most suitable to your event which will accomplish your wishes. The duration of a workshop can vary from 30 minutes to 120 minutes and both small and large groups are welcome.
If you are organisisng a tango festival we will be happy to match the theme of the workshop to your requests.
Tango for wedding
Are you getting married and want to create an unforgettable moment with your significant other?
Dance a passionate Argentine tango as your opening wedding dance.
We will create a beautiful and unique tango choreography tailored on you that will leave your guests speechless!
We will incorporate your ideas and wishes and we will teach you your Argentine tango wedding dance in a fun and challenging way to prepare you really well for your big day and with no stress.
Choosing a tango as your first wedding dance gives you an opportunity to learn a new and deeper way of communicating within the couple, a beautiful experience to share with your loved one.
What our tango wedding offer includes
Our service includes:
- A series of private lessons covering tango moves and choreography
- All the instructions from the basics to the musicality
- Your choice of song with as much or as little choreography as you like
- Assistance in choosing your song from Idea Tango's vast collection of tangos both traditional and contemporary
- Possibility to film the classes to easily practice at home in between the classes

why to choose tango for your wedding

Tango is known as the dance of passion and romance and you couldn't pick a more perfect dance for your wedding day. Argentine tango is growing more and more popular as a bridal dance because it is a real audience pleaser with its inherent romance and drama.