Tango workshops & teambuilding
Click here to see the upcoming tango workshops.
Tango workshops
Thanks to our long standing teaching experience, we regularly work with organisers all over the world to give tango workshop, tango seminar and tango masterclass for dancers of all levels. Scroll down for all our upcoming events!

Dance workshop, milonga workshop, vals workshop,
We give workshops in tango salons, milongas, tango festivals, tango vacations and any kind of tango events.
Our structured teaching methodology, as long as our clear explanations, seasoned with humor, create an enjoyable, deep learning experience for students of all levels.

Are you a tango organiser? Contact us! We will be pleased to work with you and to match the theme of the workshop to your requests.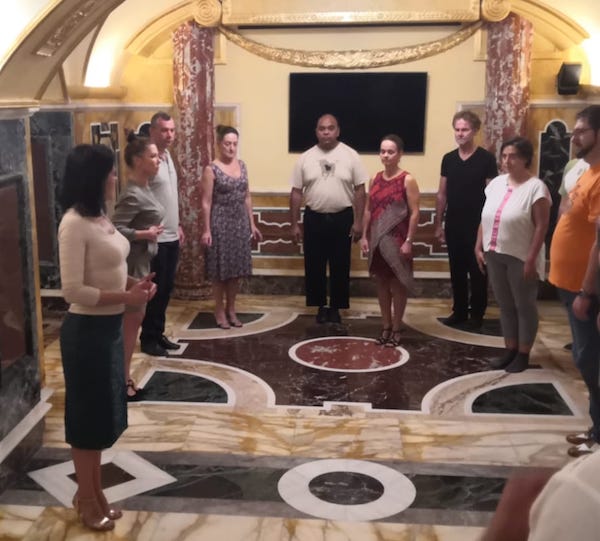 Tango teambuilding
Give your family, friends or co-workers the chance to try the Argentine tango!
Learning tango can be challenging, but it is proven to be an amazing team building exercise and an opportunity to bond and have lots of fun. A dance workshop is the perfect way to start your event or party, to get everyone moving and joyful on the dance floor. Our tango workshops are suitable for everybody and for every type of event.


Which kind of tango entertainment we offer
Either if you are a private or a corporate, contact us and we will create the tango entertainment most suitable to your event. The duration of a workshop can vary from 30 minutes to 120 minutes and both small and large groups are welcome.

2 tango workshops - 10th July 2022 - Delft
Location: Lijm & Cultuur, Rotterdamseweg 272 Delft | 14:00-17:00
Topic WS 1: Walking -> how to connect in the elegance
No matter how long you have been dancing Tango, you always regularly go back to the walking technique. Undeniably, mastering the walking is the key to everything else in Tango. In this workshop you will first break down your walking to its fundamental components to have a deeper understanding of the walking mechanic. Then you will reassemble them again in a more connected and elegant form. To bring your parallel/cross front/side walking to the next level both in open and close embrace.

Topic WS 2: Adornos for him & her -> what, how, when and where
For both leaders and followers, adornos are a great tool to embellish and spice up their dance. But … What to do? How to make them look really nice and elegant? When to pull one off? Where to take/give the time for an adorno?
In this workshop both leaders and followers are going to get the answers by exploring several adornos, their musicality and the related communication in the couple.
For info and registration contact us.
Tango masterclass - 28th August 2022 - Eindhoven
Topic: Elegant walking & combinations.
Location: Scala Tipo Tango, Eindhoven | 15:00-17:00
During this intensive seminar Silvia and Roberto will take you in a deep journey about advanced walking techniques in cross system. You will work with gorgeous walking combinations to improve your elegance, connection, communication and musicality in cross system.
The seminar is followed by the Tipo Scala milonga (from 17:00 until 22:00) during which Silvia & Roberto will give a stunning show! Don′t miss it!!
For info and registration contact us.