Tango workshops & teambuilding
Tango workshops
Thanks to our long standing teaching experience, we regularly work with organisers all over the world to give tango workshop, tango seminar and tango masterclass for dancers of all levels. Scroll down for all our upcoming events!

Dance workshop, milonga workshop, vals workshop,
We give workshops in tango salons, milongas, tango festivals, tango vacations and any kind of tango events.
Our structured teaching methodology, as long as our clear explanations, seasoned with humor, create an enjoyable, deep learning experience for students of all levels.

Are you a tango organiser? Contact us! We will be pleased to work with you and to match the theme of the workshop to your requests.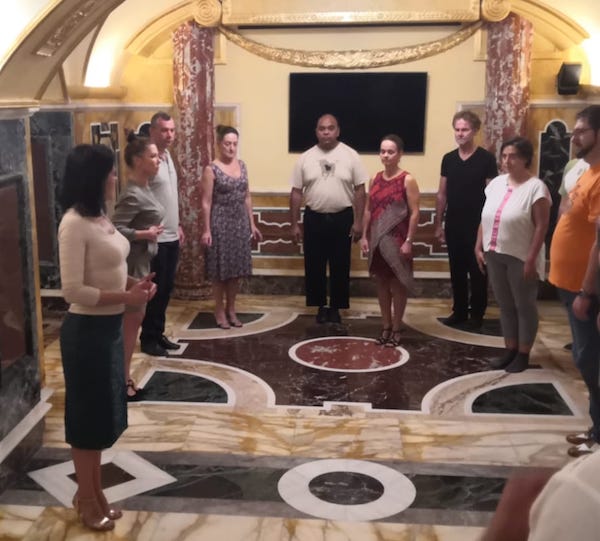 Tango teambuilding
Give your family, friends or co-workers the chance to try the Argentine tango!
Learning tango can be challenging, but it is proven to be an amazing team building exercise and an opportunity to bond and have lots of fun. A dance workshop is the perfect way to start your event or party, to get everyone moving and joyful on the dance floor. Our tango workshops are suitable for everybody and for every type of event.


Which kind of tango entertainment we offer
Either if you are a private or a corporate, contact us and we will create the tango entertainment most suitable to your event. The duration of a workshop can vary from 30 minutes to 120 minutes and both small and large groups are welcome.

Upcoming tango workshops
Tango seminar - 21st May 2022 - Delft
Topic: Paradas, Adornos, and different Resolutions. Location: Radost, Schieweg 15F Delft | 17:30-19:00
Paradas are a magical moment in Tango; a moment in which you have a deep connection between the partners with the music. As a leader you might not know what Parada to choose, how to strengthen the communication with your partner, or how to broaden the spectrum of the Resolution vocabulary. And as a follower you might not know which Adorno to choose, how to communicate the intention to your partner, or how to maintain an even deeper connection. In this workshop Silvia and Roberto unveil all the little tips and secrets to answer those questions whilst working with different Paradas, different Adornos and different Resolutions.
For info and registration contact us.
Tango masterclass - 22nd May 2022 - Leiden
Topic: Giros with Sacadas. Location: Milonga el corazon, Leiden | 13:15-14:30
Giros are one of the most used and most popular tools when dancing tango. Nevertheless, there are several different techniques to properly execute a smooth and perfectly calibrated giro. The technique of a giro with sacadas is, in itself, unique as it differs from all the other giro techniques. Why? What is the difference? What is the role of the leader and the follower? In this workshop Silvia and Roberto are going to take you in an exploring journey that, step-by-step, will answers all those questions.
For info and registration contact us.